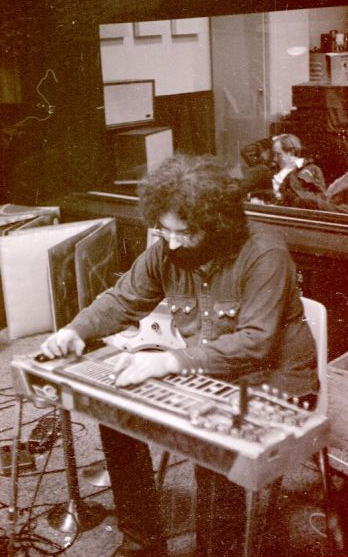 Jerry Garcia at the office in 1970
© 2003 Stephen Barncard
Jerry Garcia played on "Oh Mommy"
The long list of musicians who have
appeared on Brewer & Shipley albums
is truly a
Who's Who of musicians
. Of all the contributions by those brilliant musicians, the one that seems to draw the most interest from fans, is the late Jerry Garcia's contribution to Brewer & Shipley's 1970 Tarkio album.

Another day at the office
"Wally Heider's studio in San Francisco had a bunch of the Bay Area musicians in there every day," explained Michael Brewer. "

Part of Jefferson Airplane's original record deal was unlimited studio time there, so Studio A was basically their room and the Dead had kind of the same deal and they were upstairs in Studio B or D.

It was like going into the office. The Dead was in there every day, or some offshoot of the Dead; the Airplane or offshoots were in there every day, Hot Tuna or whoever. We knew a lot of them from back in the folk days. I met Paul Kantner when he played banjo
and had a flat-top haircut, so we went back a ways with some of these people. Jerry had just started playing pedal steel guitar. He came in one day, and we were working on some stuff. We said, 'Hey Jerry, we got a song here, would you like to play pedal steel?' And he said, 'Sure.' So he set up his pedal steel and played on a song called
'Oh Mommy' (I Ain't No Commie)
, the B-side to 'One Toke Over the Line.'"